Truth be told, I am not a football fan.  I know, horrors, I live in the Boston area, home of Tom Brady and the Patriots, and still not a fan.  What I do love, though, is a good Super Bowl Party, especially if I am hosting it.  I just love making all those manly appetizers full of meat.  Got to give them something to neutralize the alcohol!
This year, I decided at the last minute to have a small (just fam due to covid) Super Bowl Party.  So I rounded up the absolute best, easiest, quickest recipes from my favorite bloggers for my football party.
My family loves deviled eggs.  These eggs by Camille at mymommystyle.com are just adorable.  Check her out!
Deviled eggs are a great traditional appetizer for any party or potluck. Add a little touch of green onion to make these look like footballs and you have the perfect game day snack.
To see the recipe, look here:  https://www.mymommystyle.com/?s=football+deviled+eggs
PULL-APART PIGS IN A BLANKET
Another family favorite!  My granddaughter and I have always used the crescent roll recipe but this recipe looks even easier!  I've never used it before so I'm going to watch it very carefully and maybe set the oven lower at 350 instead of 375.  I definitely don't want to burn those little guys.
You can find Stephanie's recipe on her awesome site:  Check it out!
https://spaceshipsandlaserbeams.com/pull-apart-pigs-in-a-blanket/
Look how delicious they look!
Serve with the dipping sauces. We like ours with ranch, marinara, ketchup, or mustard. You can use classic yellow mustard, or go with spicy brown mustard, or honey mustard, based on preferences.
Pull apart pigs in a blanket also pair wonderfully with these dips:
GRAPE JELLY MEATBALLS (3-INGREDIENTS)
This recipe is from Jill at kitchenfunwithmy3sons.com.  Thank you, Jill!
These meatballs are a favorite at my house.  It is so easy to whip up a batch.  Guests always assume the meatballs are homemade as well!!  Just throw all 3 ingredients in a pot and you are done!  So easy! Tender meatballs made in the slow cooker (or on top of the stove in a large pot) in a sweet and tangy sauce.
When I make these meatballs, I usually cut the recipe in half.  I also use whatever ingredients I have on hand and it's always excellent!  No grape jelly??  I've used other jellies, cranberry sauce, or various mixtures.  No Chili Sauce?  I've used ketchup!  Experiment!
I make them in a large pot on the stovetop if my slow cooker is busy. (I only have one slow cooker and I sometimes need it for something else.)  After the sauce is mixed, I add the frozen meatballs and simmer until warmed through, at least 30 to 60 minutes, stirring occasionally.  
I love skins loaded up with tons of bacon, cheese and green onions. If you are a fan of TGI Friday's skins you are going to love this simple and tasty recipe.  It's from Jen at cincyshopper.com.  Thank you, Jen!  
See Jen's great recipe here:  https://cincyshopper.com/copycat-tgi-fridays-potato-skins-recipe/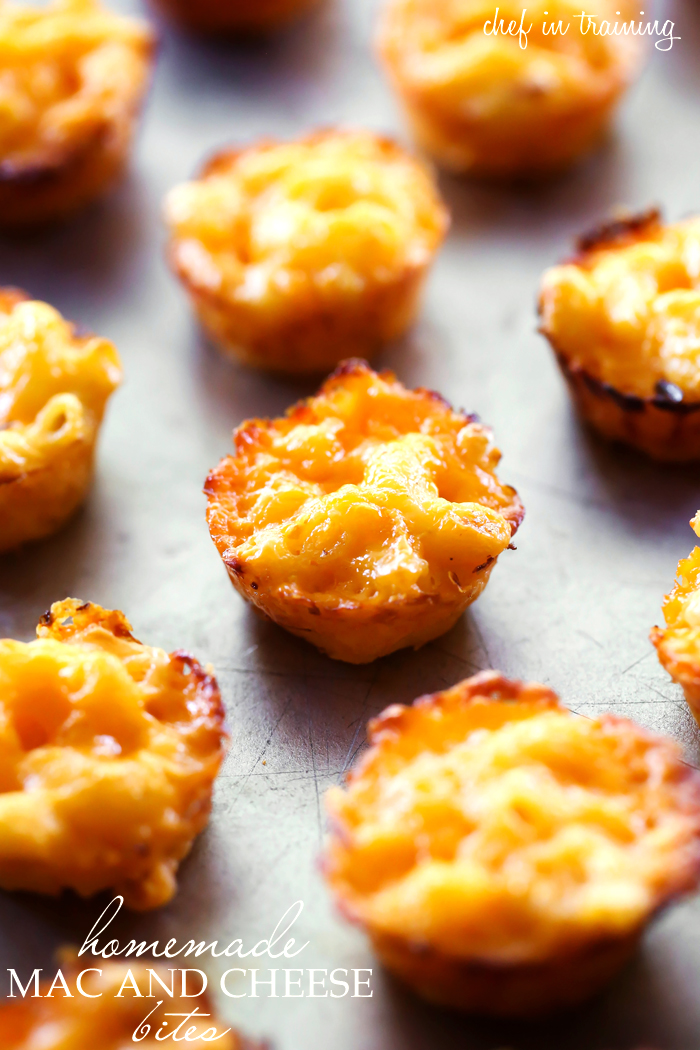 Aren't these cute?  I can't wait to try this recipe I found at chef-in-training.com.  Thanks, Nikki! 
The grandkids will be here and I'm pretty sure these will be a hit.  They love mac and cheese and here you have it in little finger-sized appetizers!  What's not to like?  To see Nikki's full recipe, look here:  https://www.chef-in-training.com/homemade-mac-and-cheese-bites/
I love throw everything in a pot recipes!  I found this one at dashofmandi.com.  Thank you, Amanda!
Nothing like chili on a cold day in New England!  This hearty buffalo chicken chili is packed with delicious, spicy flavors!
This recipe is so easy to throw together! To check it out, look here:  dashofmandi.com.
7 layer salad
I feel better when I round out an appetizer buffet with something more-or-less healthy.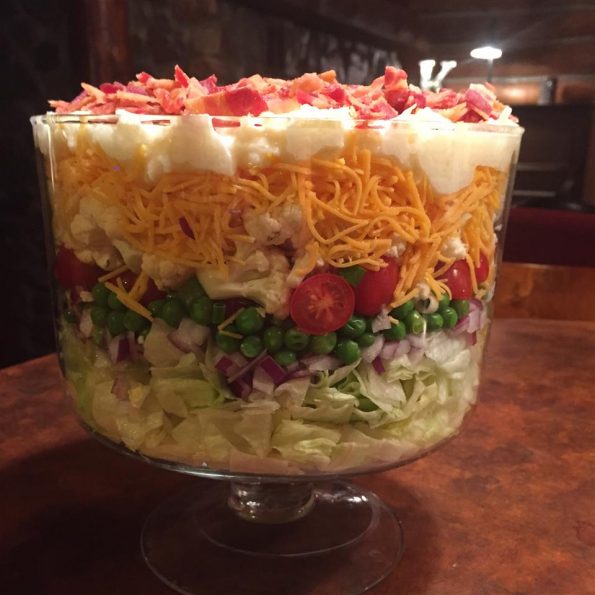 Ingredients
1 pound bacon

(1) large head iceberg lettuce (totally rinsed, dried, and chopped)

(1) red onion, chopped

(1) (10 oz) package frozen green peas, thawed

(10 oz) shredded Cheddar cheese

1 cup chopped cauliflower

(1 ¼) cups mayonnaise

2 tbsp white sugar

⅔ cup grated Parmesan cheese
Directions
:
Add bacon to a large skillet and cook over medium-high heat until evenly brown. Crumble and set aside
Place the chopped lettuce in a large flat bowl, layer with onion, peas, shredded cheese, cauliflower, and bacon on top.
Prepare your dressing by whisking the mayonnaise, sugar, and Parmesan cheese together. Drizzle over salad, refrigerate until chilled.
Notes:
The perfect time to make overnight layered salad is the night before or at least four hours. Any sooner and the dressing will make the salad a little soggy. Make sure to carefully arrange it, scoop the dressing over the rim, cover it with plastic wrap and keep it cold until ready to serve.
---
The ultimate decadent chocolate cake – and it's foolproof! Stacey's slow cooker chocolate lava cake is rich, gooey, and literally overflowing with fudge-y goodness!
I like to serve it with a scoop of vanilla ice cream on top!
You still have time to whip up an awesome last-minute Superbowl Party!
Thank you to the following bloggers:
kitchenfunwithmy3sons

cincyshopper

chef-in-training

thesoccermomblog