Looking for some gift ideas for tween boys? Me too!  William, my youngest grandchild is now 11, well into his tween years. 
 I can't believe it! 
They grow up too fast. It's a tricky age, too old for actual toys yet too young for a motorcycle.  They still love to play but want something more sophisticated.
They are truly in-between.
So I didn't mess around, I went straight to William to find the hottest toys for tween boys.  And here it is, some seriously awesome ideas to inspire you. You'll find EPIC ideas below, each designed for boys ages 9-12 years old. Hopefully, you can find something perfect for your tween from this gift guide!
I have suspected for a while that kids are now being born with a computer chip already installed in their heads. 
By the time they reach 9 or 10, they are computer experts.  Where do I go when I have a computer issue?  William. 
So it was no surprise that at the very top of William's list were computer devices and accessories.
The List
    #1    Number 1 on William's list… Gaming Consoles
I know, ridiculous, right?  However, here is the info.  William warned me that one of the consoles he really wants, the PlayStation 5, has gotten wildly popular, causing the price to double and for it to be out of stock everywhere.  He was right.  When it was released in November of 2020, it sold for $499.99, while the PS5 Digital Edition, which cannot play discs was $100 cheaper, at $399.99.  Now I can't find it for less than $1000.  If I can even find one in stock.
PlayStation 5
This information from Tom's Guide might help you score a PlayStation 5:
PS5 restock tracker — stores to check
The other great gaming console that William suggests is the Xbox Series S or the Xbox Series X both of which also came out in November of 2020.
Xbox Series S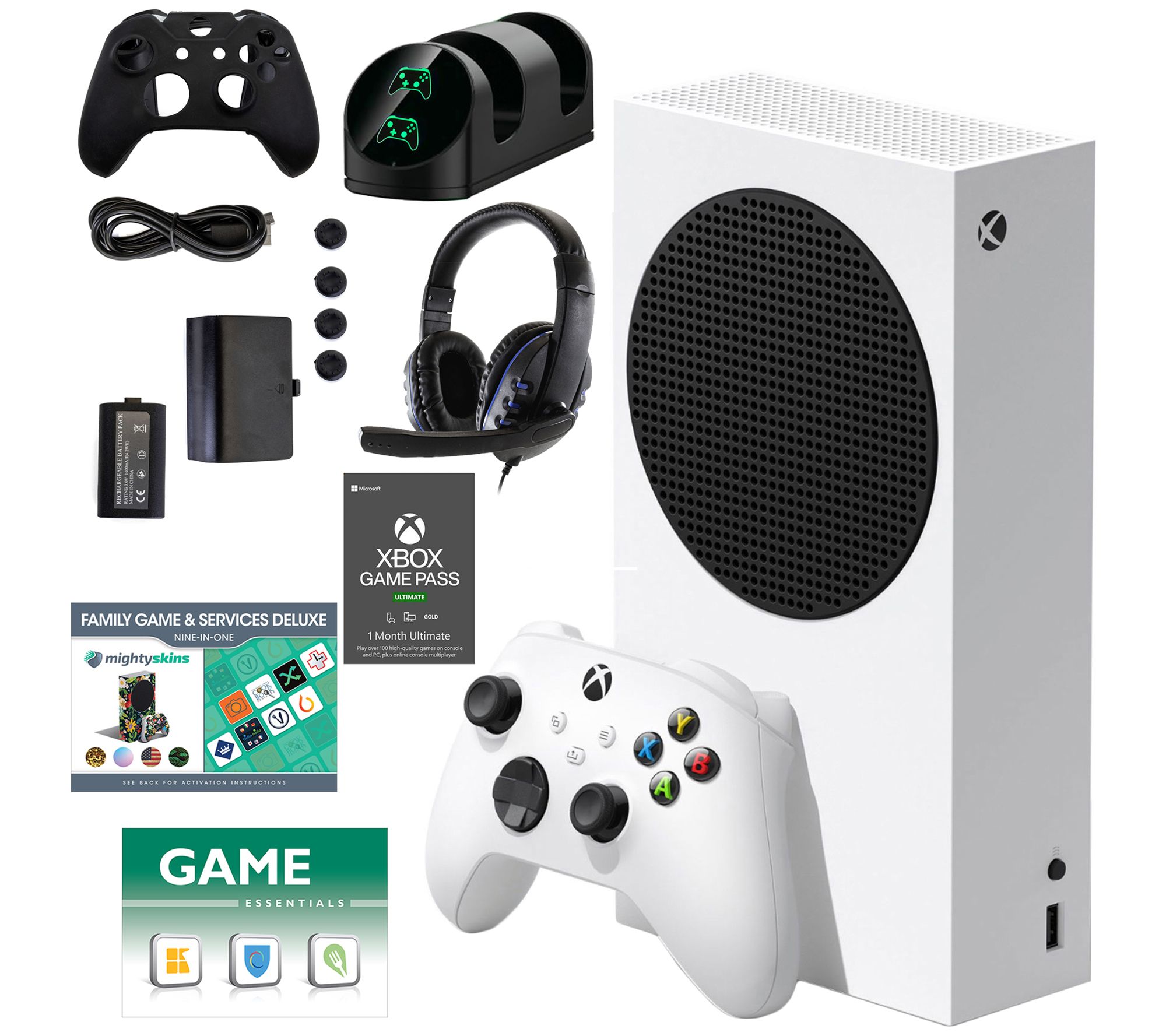 The only place I found the Xbox Series S in stock is QVC. Here is the link.
Xbox Series X


What is the difference?  In addition to the price difference and possible availability, there is a big difference between the Xbox Series S and the Xbox Series X.  The Xbox Series X covers all bases for both physical media (discs) and digital distribution, with an optical drive that supports up to Ultra HD Blu-ray discs, and a 1TB SSD.  The Xbox Series S is an all-digital console with no optical drive at all. This means it can't play Blu-ray discs or the physical edition of games.
Of course, they are both difficult to find but check out this information from Tom's Guide:
Xbox Series X restock tracker — where to look
I'm sure that most tweens, like William, would be thrilled to receive any of these game consoles.  And they would be lucky, indeed to receive such a great gift.
#2

  NERF Elite 2.0 Flipshots Flip-32 Blaster 
Right at the Top of William's List 
The NERF Elite Blaster on William's list is a new release this year.  He has a blaster on his list every year to add to his collection. To see last year's list, click here.  The awesome ideas there are still popular.
William's collection
Kids this age love nerf gun wars.  It's the modern-day version of cops and robbers. Are the guns safe?  If used properly, yes. 
They have limited power

The ammo is a lightweight sponge dart 
Even so, safety glasses would be a great addition to this gift.  Although the darts are made of lightweight foam, it would still hurt to get one in the eye.  
Problem solved. Cool goggles!
As long as their eyes are protected, there are many reasons that nerf guns are good for the tween:
NERF blasters are an ideal way for tweens to be physically active. They will be doing a lot of running around!
Playing with NERF guns promotes hand-eye coordination. Even loading darts into the chamber helps with dexterity.
Typical NERF play requires planning, and a degree of strategizing, both of which are valuable skills.
NERF weapons can help to promote imagination and creativity, which are critical for your tween's development. 
It helps a tween's social game: Although it may feel counter-intuitive, NERF guns can improve social skills. Kids learn to lose, put themselves in the position of others, take turns, and consider other people's feelings.
Above all else, tweens love these blasters!  
#3

ZenMonkey Slackline Kit with Overhead Training Line
What is slacklining?
Slacklining is a growing sport that's very much like walking a tightrope. But instead of a taut cord or rope, you're balancing atop a 1- to 2-inch wide strip of webbing that offers extra bounce, a bit like a trampoline.  Some slacklines have a bit of a rubber coating to make learning to balance easier. Most slacklines attach easily to trees with no additional tools or rigging needed. Some come with an extra training line (help-line) to hold on to from above, which is great for beginners and helps encourage the correct arm position. 
Some benefits are:
Slackline courses encourage kids to exercise.

This exercise strengthens back muscles.

Slacklining improves balance.

It strengthens the core better than sit-ups.

It helps to clear the mind.

A slackline can be portable.
Kids love them
#4 The Razor RipStik Ripster – A Compact and Lightweight Board with 360° Castors
2 wheel pivoting skateboard with 360-degree casters.  Wow.
#5 
Wireless Gaming Headset


These are awesome:
Surround-sound-capable for audio realism and in-game immersion.

2 modes of connection; plugin or go wireless.

Soft breathable memory foam ear cushions that prevent overheating and pressure build-up.

Works on PC wirelessly for up to 24 hours.
#6  NERF  All-Weather Blitz Foam Football
With Easy-to-Hold Grips
#7

    Razor E300 Electric Scooter, a REALLY Special Gift
Imagine your tween's eyes lighting up when he receives this electric scooter.  I have done extensive research and found that this model ranks number one nearly everywhere.  
It is sturdy and has room for both feet.

It is powered by a 250-watt, high-torque, single-speed, chain-driven motor that delivers a top speed of up to 15 mph (24 km/h).

2 rechargeable 12V sealed lead-acid battery system provides up to 40 minutes of continuous use.

An all-steel frame and fork stand up to rugged use and provide a solid ride.

Larger 9" (229 mm), pneumatic front and rear tires support heavier riders while helping soften out rough surfaces for a smooth ride.
#8 Very Cool LED Bike Wheel Lights with Batteries Included!
Brighter and Visible from All Angles for Ultimate Safety and Style
#9 COMPLETE OFFICIAL MINECRAFT NOVELS BOOK SERIES 
I am a big believer in encouraging kids to read what interests them so that they develop a love for reading. There is a strong argument for encouraging (or forcing) children to read classics, but I believe at this age, reading should be fun.  As long as they are reading I think that is enough.
Book One
Book Two
Book Three
Book Four
Book Five
Book Six
Book Seven
Book Eight
Book Nine
Book Ten
Book Eleven
Book Twelve
Each incredible and adventurous Minecraft book has an original storyline and can be read on its own.  They do not need to be read in order! 
Other Cool Stuff
BEYBLADE Burst Surge Speedstorm Motor Strike Battle Set 
What is this thing???
When this item appeared on William's list I had no idea.  Honestly, I was completely clueless.  If you are clueless about Beyblades like I was, there is a great article about what they are and how they became popular here. 
In a nutshell, Beyblades are spinning tops that engage in battles of good and evil.  Of course, they require a stadium where they can do their battles, and this one is motorized. It also comes with 2 right/left-spin launchers, and 2 spinning tops for a complete Beyblade Burst battle set.  Beyblades have been around for a long time and are seeing a super resurgence with tweens.
LEGO NINJAGO Legacy Fire Dragon Attack 71753 Ninja Playset Building Kit
A fire-breathing dragon and a Lego set all in one.  What could be better?
More great gift ideas for tween boys can be found here.
I love Christmas shopping for the kids.  Hopefully, I have given you a jumpstart for your tween.
Happy shopping!
I participate in select affiliate advertising programs. This means that if you make a purchase through certain links on this site I may make a commission from that purchase. All opinions are my own, and all brands included are those I personally like and recommend. Thank you for your support!